All Saint's church is closed for all services and activities but the community is still very much open! To stay in touch please explore our online worship in the links above and sign up to our mailing list at: https://eepurl.com/gYwH8n. For those who do not have internet access, please use our 'dial-in' worship facility provided by Alan Stanley following the instructions on the page above. Please pass these on to people you know who may benefit.
The church building may be shut but the church is very much active and involved in village life. We have daily reflections and Sunday services that can be accessed from our Benefice Youtube channel here https://m.youtube.com/channel/UC2ID3lKIfaJisVxxttTBJJg
and if you would like prayer or a listening ear please contact our vicar Andy Nicholson at reverandy1@gmail.com or our curate Bob Bailey on rev.bob.bailey@gmail.com
Welcome
Welcome to All saints' Church, Barwick in Elmet. We have tried to give you a flavour of life at this church but you will need to come along and meet us to fill in the gaps. We are situated at the junction of Potterton lane and Aberford Road.
Ours is a traditional church enjoying good links with the church school.
Have a browse through this site and if you want to find out more please get in touch with us, see details on the Contact Us page.
Our usual pattern of worship for each Sunday of the month includes
8am said Holy Communion followed by:
1st Sunday at 10am, "Altogether@10" all-age service of the Word.
2nd Sunday at 11am, Choral Holy Communion.
3rd Sunday at 10am, All-age Holy Communion (including our "All Saints All Stars" drama and worship group for children who meet the Thursday before at Church from 3.45pm - 5pm).
4th Sunday at 11am, Choral Holy Communion.
The main focus of any church is the worship of God. Here at All Saints' we celebrate Holy Communion every Sunday, except the first of the month. There is a full list of services on the Calendar page.
The 8am service is said (rather than sung) and the 11am is with vestments and a robed choir.
For those who visit us and are not used to worship or who come from different traditions the services may hold a degree of mystery. Please feel free to ask any questions about the service afterwards over coffee.
Linking it to life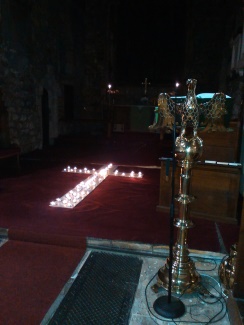 In all our worship we seek to make connections between what we profess and the way in which we live and work. We relate Bible readings to real experiences so we can understand their message for us today.
Our worship is an offering to God, but also a time when we can be nurtured and strengthened, ready for another week in which we can "go in peace to love and serve the Lord".
An open invitation
We invite baptised Christians of all denominations to receive Holy Communion. If you would prefer to receive a blessing just come to the altar rail with everyone else, and hold a service booklet.
Children are always welcome at All Saints' and there are toys and books at the back of the church and a toilet with baby changing facilities.
The service on the first Sunday of the month is at 10am.
It is called "AllTogether@10", and is a shorter service of worship and praise for the whole of God's family together; where the children (everyone from 0 to 100 years) are encourage to participate.
3rd Sunday all-age Holy Communion includes hymns old and new with participation encouraged across the generations. We usually have a drama from the children and a craft activity for those who like to learn through making. Our "All Saints All Stars" drama and worship group for children who meet the Thursday before at Church from 3.45pm - 5pm.
In this parish we offer the sacrament (bread and wine) to baptised children before Confirmation but we like to give some informal "instruction" beforehand.
Please see the Vicar if you would be interested in this aspect of worship for your children.
There is access for wheel chair users to the main part of the church and toilet.
An inductive loop system is installed to assist those with hearing aids and we can provide large print copies of the Order of Service and hymn book for those who need them.
We look forward to you coming to meet with us.
Church and Village sharing a meal 20 November 2015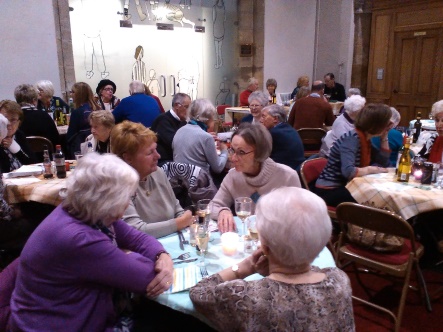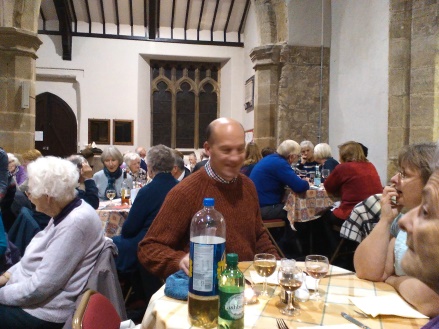 photo 1 church
photo 2 Andy; our Vicar
photo 3 Service of Light 2015
photo 4 the children telling the story of Zacchaeus
photos 5&6 village involvement